How to get a Quality & Durable Solar Street Light?
---
Solar lighting especially solar street lighting is a professional and high technology field. Solar lighting industry is a green, clean, and respectable industry. Solar street light is a durable and asset product.
Some important changes have been happening in the past 3~4 years since 2016. The fierce low pricing competition from some dishonest suppliers are driving the market to confusing, embarrassing and somehow dirty situations.
You might find solar street lights with the same nominal wattage and 10 times price difference. Some solar street lights with similar even the same appearance but 2~3 times price difference. This's the current confusing situation on the market.
How can this happen?
What's your right product?
How to get a quality & durable solar street light?
Yes, solar street light is a complicated system. But it's for the manufacturer, not for the distributor, contractor, installer or even the end user. It's simple to distinguish high quality products from poor quality products. Just get some samples from different suppliers and open it, you have over 60% chance to see the truth: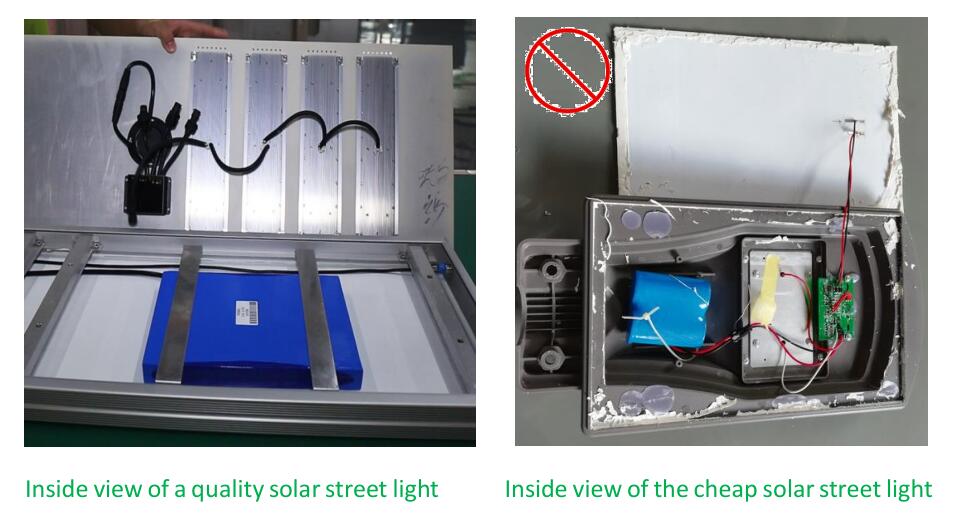 The difference of the high price products and low price products is visible from the following perspectives:
SOLAR PANEL
Power & Size: Regularly, the solar panel size decided its power. If there's big difference on prices for 2 solar street lights, compare their solar panels size.
Type & Efficiency: monocrystalline solar panels mostly are with higher efficiency than polycrystalline solar panels. For 2 panels with the same size, the power of a monocrystalline solar panel regularly would be 20% higher than polycrystalline.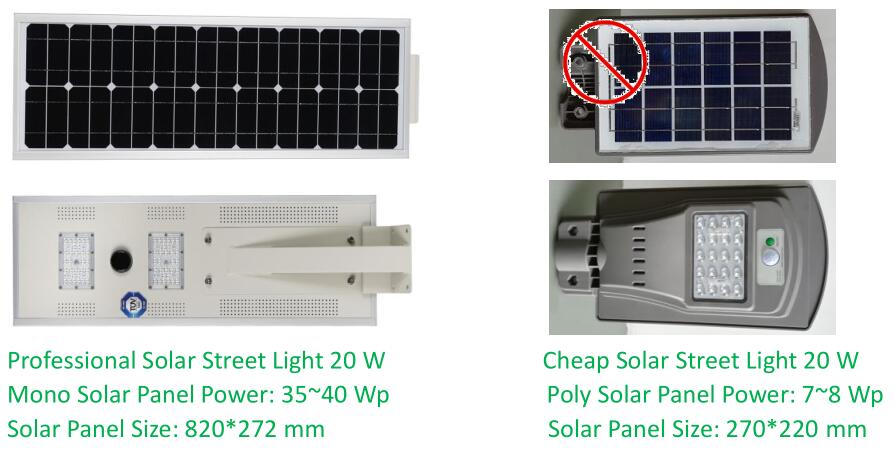 Quality & Potential Defects: The 2 products as above are easy to distinguish even you only see the product picture. But there are also solar panels with the same size but have big difference on quality, power and life span. You might find out the difference by visual inspection: color difference on the solar cells, the welding on the solar panels etc.
Surely the most effective and reliable way for PV inspection is solar simulator (IV Tester to test the solar PV power) and solar cell defect detector (EL Tester like a X-Ray to detect the potential defects).

CONTROLLER
Controller Type: MPPT or PWM? Regularly the MPPT controller is with higher efficiency also higher costs than the PWM.
IP Rank: IP rank is the waterproof rank of a controller. This will decide the life span of controllers. Controllers with naked PCBs will be with much shorter life than a higher IP rank controller.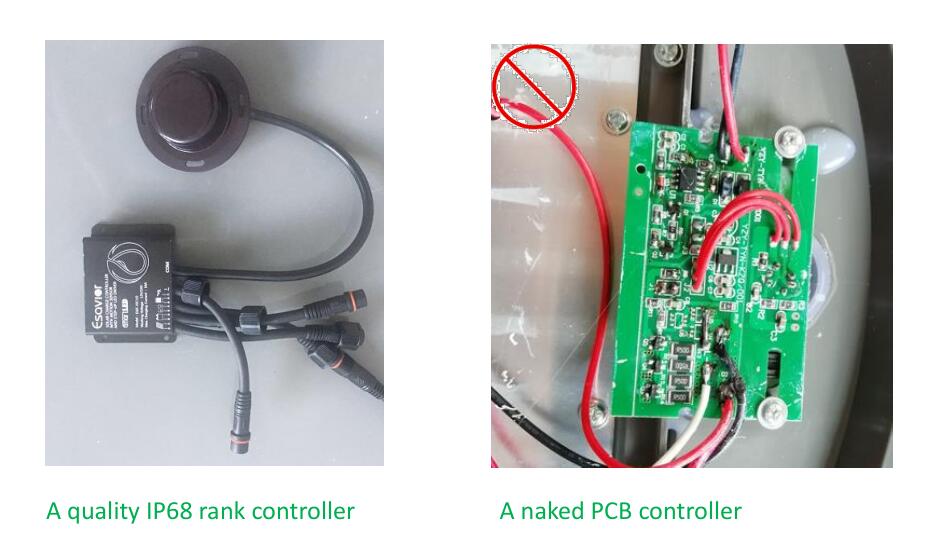 Maturity of Technologies: Experience and reference of the supplier will reflect you the maturing of their technologies on controllers.
Aging and Manufacturing Processes: There might also be some suppliers are supplying controllers with similar appearance like the upper left one. But the technology is not maturing enough and quality different. So the best way is working with the suppliers who make enough aging and have SOP and SIP for their manufacturing. If you can't visit the factory, ask them to send you some pictures and videos. You can also try to see it via a video call. Also you can do some investigations on the supplier like ask them to provide some reference contact from their existing customers.
BATTERIES
Batteries is the core secret of the pricing difference of different suppliers. Most dishonest suppliers are making high profit at low price from the batteries.
Battery Type:
There're mainly 2 different types of lithium batteries for solar street light on the market: "Lithium Phosphate Battery (LiFePO4)" and "Ternary Lithium Battery (Li(NiCoMn)O2". The core difference of these 2 types of lithium batteries are as below:

Considering the high temperature working conditions of the solar street light, LiFePO4 battery is the best option for solar street light. Especially for the installation site where with high temperature >40℃, LiFePO4 is the only workable battery.
Battery Capacity: Battery capacity is another core secret of some suppliers to make high profit at low price. A lot of dishonest suppliers are making high profit by cheating/ exaggerating on battery capacities as most customers don't have efficient way on inspecting the battery capacity.
Battery Grade/ Quality: Even though both 2 suppliers are using LiFePO4 batteries with the same capacities, their products might be with big difference if they use different grades/quality of batteries.
Used Battery: there're a lot of cheap products on the market are with used battery which retired from the E-vehicles. All solar street lights come with working voltage of less than 12V are with used batteries. Costs of the used lithium batteries are even lower than lead acid batteries. But nobody knows it's lifespan.
LED
LED Chips & LED Lumen Efficiency: Different suppliers are using different LED chips with different costs. Maybe the same chip size like 3030, but different LED chips from different manufacturer are with big difference on LED lumen efficiency, maintenance of LED lumen and lifespan. Choose the supplier who's buying from the famous brand like PHILIPS, CREE, SEOUL or OSRAM. Maybe everyone will tell you they are buying from these brands, ask them for the purchasing order photocopy and audit it carefully.
LED Quantity: At present, there's a trend that a lot of suppliers add more and more LED chips to the solar street lights to mislead their customers to recognize their lights at higher wattage. Actually this almost make no sense on improving the lamp lumen. For example, the 3030 PHILIPS LEDs will get its maximum LED efficiency when it's driven at 0.5~0.7W/pcs. What decided the brightness of a solar street light is it's actual power, not the quantity of LEDs.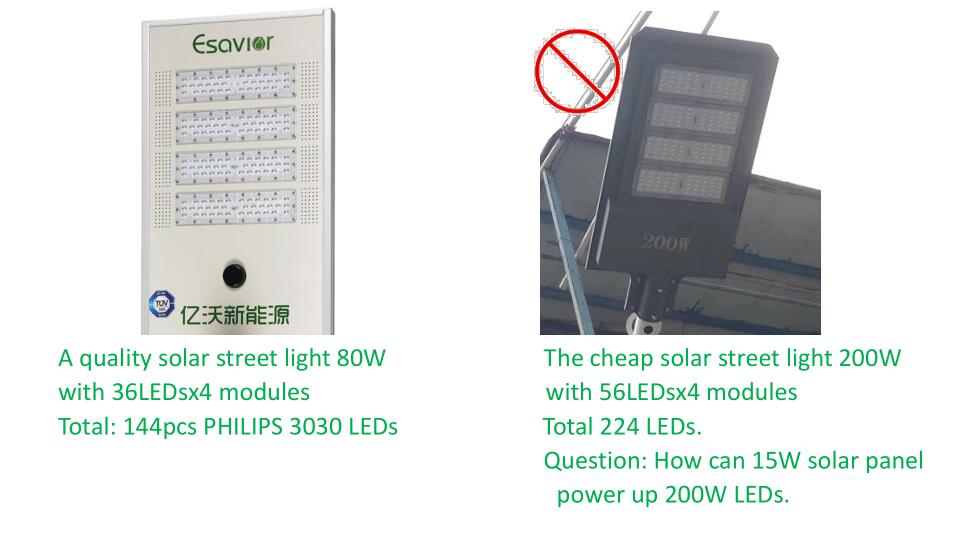 Cooling Fin: A reasonable cooling or heat dissipation structure is necessary for the LED light source (lamp). LED modules without cooling fin will luminance decrease in very short time and shorten the lifespan of a LED lights.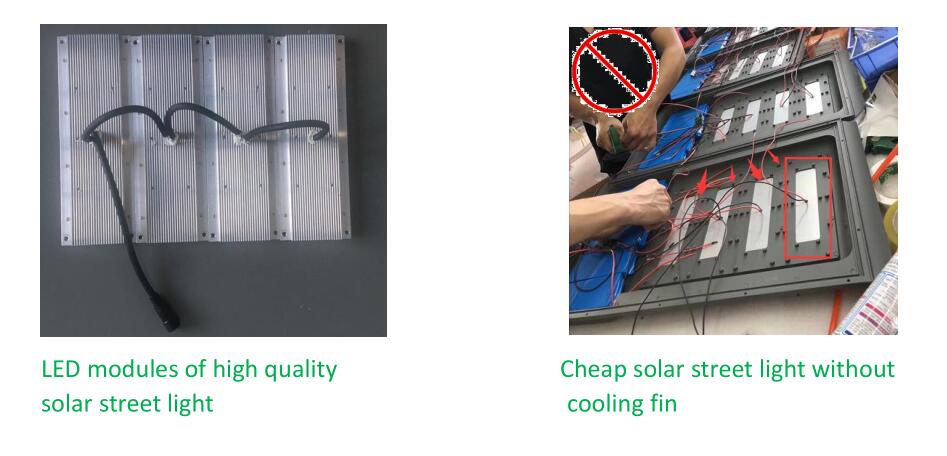 MCPCB, SMT and Aging of LEDs: MCPCB is the PCB where the LEDs are welded on it with SMT, it's the base circuit for the LED chips. MCPCB at different quality are also with costs difference of 2 times or more.
Aging is key process for all electronic products, the same to LED products. But at present most solar street light suppliers don't do aging or don't age their LED modules according to industry standard for enough time (>12 hrs).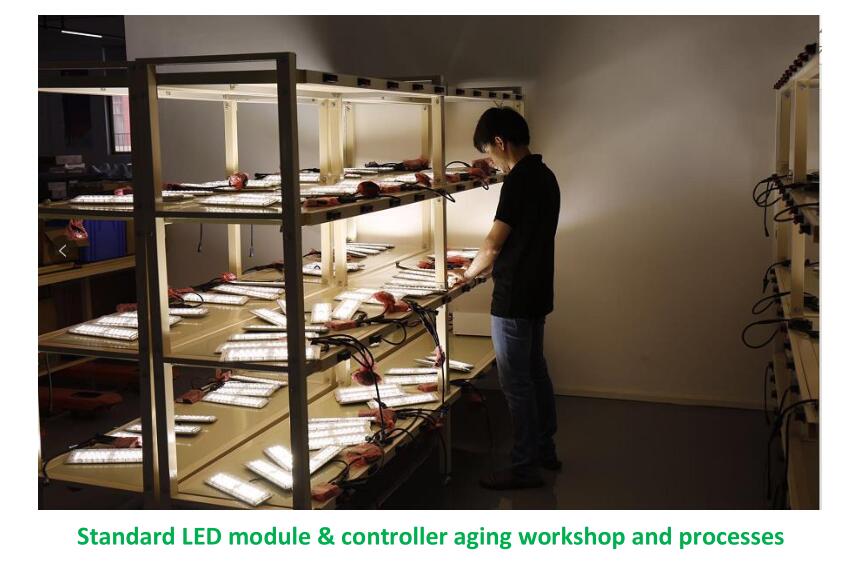 LED Lens and Light Intensity Distribution: a professional solar street light shall have its own light intensity distribution with professional IES design and IES type to fit the project illumination requirements.
PERFORMANCE: BRIGHTNESS & LIGHT INTENSITY DISTRIBUTION
When you by a solar street light, you are not buying a product, you are buying light intensity. First things first, compare the lamp lumen. You can put No.1 light in a dark room, then use a lux meter to measure the lux level at different position at different distance from the light source, write down the data you get. Then switch off No.1, put No.2 light from another supplier at the same place, repeat the lux level test at the same position you did for No.1. Compare the data you get for the 2 lights.
To avoid some "clever" supplier who might cheat by "high brightness for the earlier hours", you can keep the lights on for 12 hours and make the test every 2 hrs.
HOUSING
Materials: Aluminum Alloy for high quality solar street light, steel or plastic housing for the cheap ones.
Screws & Bolts: 304 stainless screw and bolts for anti-corrosion, some marine environments might need 316 screws.
Shape & Size: For a professional solar street lighting project, shape shall be the last point you concern. Pay more attentions to the reasonableness and stability of the structure, don't care too much and spend too much on the housing shape.
DURABILITY & WARRANTY:
As present, there're too many suppliers are looking for short term quick money on the market. So be careful on the promise or warranty the suppliers give you easily like 8 year warranty or so. Try to do some background investigation on the suppliers you intend to work with from the following aspects:
1. Experience in the industry
2. Technical background
3. Quality Assurance system
4. Reference projects
5. Try to contact with some of their distributor or customer to get some information and feedback from their existing customers.
As the leading manufacturer of solar street lights with over 10 years' experiences since 2008, we have been bearing the crazy disordered development since 2015. We hope to do something on helping all players on this market to make right decision. We also trust you can understand it's impossible to have all details included in one article. Any further query, just feel free to contact us at info@esavior.cn.
Date: June 25th, 2019
By: Leo Leung (Cofounder of ESAVIOR) and ESAVIOR engineering team.